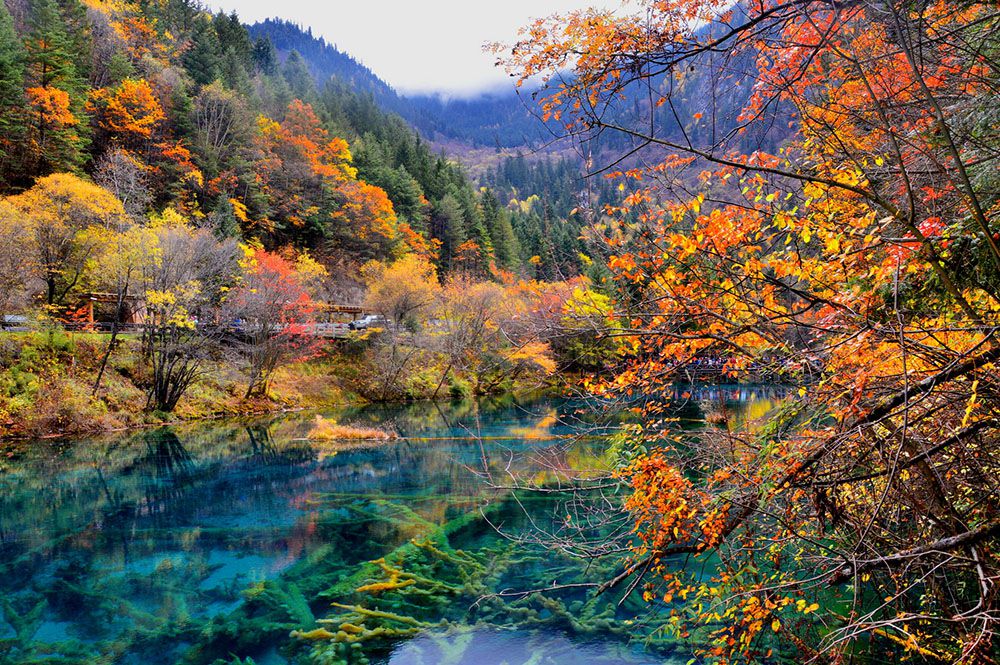 Day01: Chengdu -Jiuzhaigou (L+D)
In the morning,our staff will pick you up inyour hotel,then drive to Jiuzhaigou (420KM, 8-9 hours),Jiuzhaigou is a national nature reserve. It has been known throughout the world as a " Paradise in the Human World " and " Fairyland on the Earth " for its crystal lakes and waterfalls, virgin forests, rare animals, and birds.Lunch at a local restaurant on the way. after dinner you may see local Tibetan culture show is available in evening, the price is about 180 RMB /person (self pay) overnight at Jiuzhaigou
Day02:Full Day Jiuzhaigou Sightseeing (B+D)
After breakfast, head to the Jiuzhaigou portal and transfer to Jiuzhaigou non-pollution bus, visit Shuzheng and Zezawa Valley; Pearl Sands and Shuzheng Waterfall; Shuzheng, Panda, Chang, Rainbow, Tiger, Rhinoceros Lake and the Tibetan mills. after dinner you may join local Tibetan Roast of lamb is available in evening, the price is about 150 RMB /person (self pay). overnight at Jiuzhaigou town.
Day03: Jiuzhaigou –Huanglong-Chuangzhusi (B+L+D)
After breakfast,bus riding to Huanglong ,visit Huanglong valley, the whole sightseeing in Huanglong takes about 3 hours,the average altitude of Huanglong is 3200M,so do notpush youself in order to avoid the altitude sickness.(Cable Car ticket excluded, 80RMB/person for upline, 40RMB/person for downline,you can also vistit huanglong by foot). overnight at Chuangzhusi.
Day04: Chuangzhusi –Chengdu (B+L)
After breakfast, drive back chengdu, On the way you can visit Aba crystal demonstration center、Tibet medicine materials、Yak beef or Tibetan craft,back to Chengdu . overnight at chendu.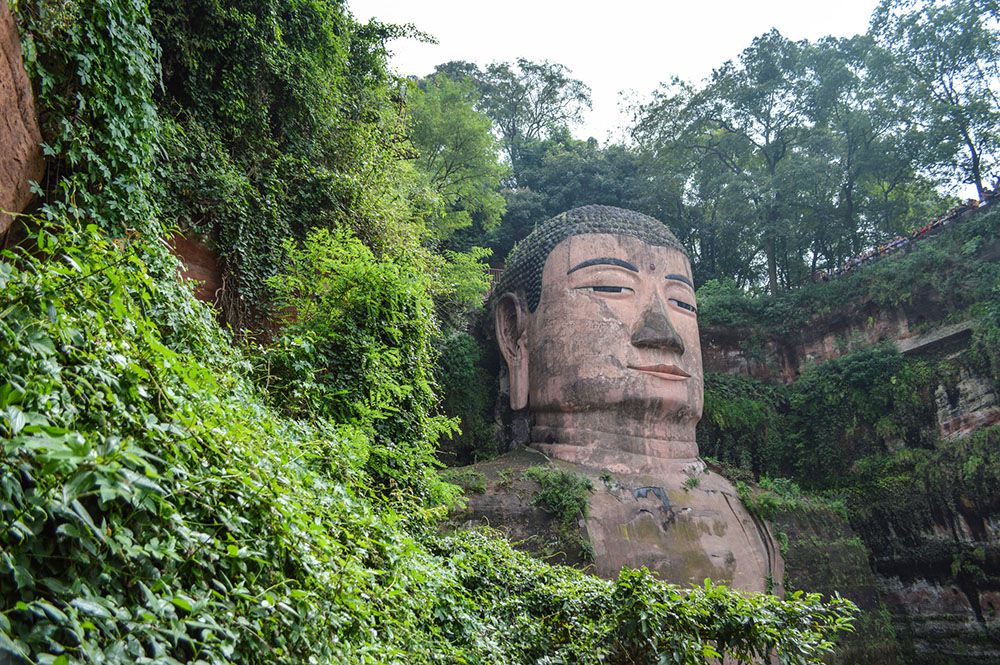 Day05:Chengdu-Leshan-Mt.Emei (B+L+D)
Start from Chengdu by bus in the morning, sightseeing the beautiful rural scene of Chuanxi Plain. (two hours distance on the expressway) Reach Leshan at noon, after lunch sightseeing the statue of Giant Buddha which is the biggest of the world, Lingyun Temple, if possible visit DongFangFoDu(Oriental Buddha Park) and Ebony Art Museum (150 RMB on your own) then drive to Emei mountain, after dinner you may see local Emei culture show(180 RMB on your own) is available in evening Overnight at Emei mountain .
Day06:Full day Emei tour-chengdu (B+L)
change to the pollution-free sightseeing bus and drive to Leidongpin,Go to Golden Summit by cable car(RMB120 at your own expense), sightseeing the Golden summit and enjoy the cloud sea, Huazang temple. After that leave for Wannian parking lot located in the waist of Mt Emei by the pollution-free sightseeing bus, and then take the cable car (RMB65 on your own) to Wannian monastery, sightseeing Qingying pavilion, a strip skyline, enjoy the beauty of E`mei mountain, and monkey mountain, enjoying the pleasure of the coexistence of man and monkey. Then return to chengdu, Finish the tour.
Price Includes
1. Transportation: Local tour bus with the other tourists
2. Entrance ticket: Jiuzhaigou Valley, Huanglong park , Jiuzhaigou public sightseeing bus. Leshan Giant Buddha and Mt.Emei frist Entrance fee.
3. Meal: 5 Breakfast, 8 dinner
4. Guide Service :Package tour guide is Chinese- speaking, most of the tourist are Chinese
5. Travel Insurance: Travel agency's obligation insurance, Tourism personal accident insurance
6. Accommodation: 5 night standard Room
7. Shoppings:Da tian lin ka crystal or Dijia crystal, Xianbala(Shambhala) beef or Andong beef, Xianshang major pharmacy or Xueshan major pharmacy; each time no more than 40 minutes.
About Children:
The following items are included for Children under 12 years old:
1.All the land transportation for this tour.
2. tour guide service.
3.Travel insurance.
For all the other things that are not mentioned are not included in children
Price Excludes
Notice
1.Itinerary is subject to change due to the weather condition, unexpected circumstances and any force majeure occurred.
2.We still can offer you private tour which is with private driver, car and English speaking tour guide.
3.Munigou Park will be arranged instead of Huanglong in winter time when Huanglong national park is closed.
4.If the tour suffers from the reason of a force of nature, such as landslide, snowslide, mud-rock flow, flood ,those of kinds of natural calamities or the delay and cancel of airlines...which cause the tour to go through disorderly and add additional fees. According to Tourism Bureau, our agency won't burden these responsibilities.
5.If you cancel the tour or leave it during the trip, our agency will regard your action as own choice and it will automatically void the contract with our company, and you will lose your tour fee.
6.Jiuzhaigou is plateau climate, the temperature is changeable and the Ultraviolet ray is strong. So prepare the jacket, umbrella, sunburn cream, sunglass and cold tablets, etc.