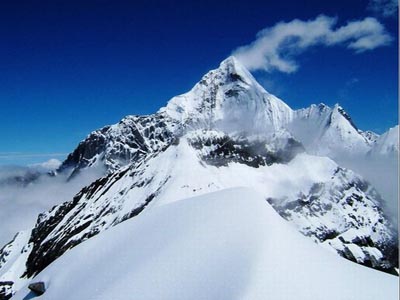 Day 1
:Chengdu - Mt. Siguniang
Depart from Chengdu, en route visit Mt. Balang, grassland and the yaks, arrive Mt. Siguniang / Rilong town then head to Shuangqiaogou, have supper and overnight in Rilong town.(L+D)
Day 2
:Changpinggou Horse riding
(horse-riding costs RMB50-RMB150, excluded, trekking by the footpath is also available.)
Transfer to Changpinggou valley after breakfast, tourists may visit this valley by trekking or horse-riding, you can see the four peaks of Mt. Siguniang and virgin forest, tourists should prepare some food since you have few food options inside. Overnight in Rilong town.
Horse-riding cost: Depending on your riding distance, from start point to Erdaoping - RMB50, Xiaganhaizi - RMB100, Lianghekou - RMB150, you can bargain with the horse owner, the price is for round trip. (B+D)
Day 3
: Free at leisure
Selftour in Haizi gully (Next to your hotel, walk to the entrance and hire horses there ).Horse riding fare 50RMB-150RMB.(a local guide included) Admission fee 50RMB.Overnight in Rilong town.The tour guide of the second 3-day tour group will contact you. Enjoy dinner with them.(B+D)
Day 4:
Back to Chengdu
After breakfast, visit Wolong Panda Research and Protection Center and photo with the panda(cost excluded) , back Chengdu after lunch, end tour. (B+L)
Price Includes
*Join the group,share the tour bus with the other tourist, the sightseeing pollution-free bus in Mt.Four Girls,private tour with a pvivate car.
*Both the group and private tour include Entrance fee .
*Both the group and private tour Include? breakfast and meals.
*Join the group tour means a Chinese speaking tour guide available, most of the tourist are Chinese,normally the guide can speak simple English ;as a private tour, a English speaking tour guide is available.

Price Excludes
*Travel Insurance
*Horse ridng fee
*Your personal expenses such as shopping
NotesNote:
1.Minor program changes sometimes are necessary, depending on road conditions, weather and availability of room.
3.The group will go to fixed souvenir shops, while the private group can avoid this subject to your decision.
4.This itinerary is not for mountaineering
5.The difference between this itinerary and the 3 day tour is that the 3rd day is your self tour,and you will join in the second 3 day tour group from the 4th day morning.Private tour excepted
6.minor altitude sickness may appear when crossing Mt.balang, please do not debarkation in order not to intensify symptom
7.Prices and Itinerary are valid in 2007, but may vary according to your travel time and tour availability (e.g.: China special events time such as F1, Canton fair; Chinese holiday periods: April 30th - May 7th, Sep 30th to Oct 7th, and Chinese New Year period which usually falls in January.......